Inspired by Darkness - The Master Bedroom
Around the time I turned sixteen I found myself most at peace when surrounded by darkness. I don't mean that in a "Oh woe is me, I'm so sad" type way (tbh, sixteen year old me probably did, but I don't now). I mean it in the literal sense. I prefer dark colors. They give me a sense of calm and often impart inspiration. They cradle and caress in a way that bright colors don't.
Around that time, I tried to convince my mom to paint my room all black. A battle that I lost, as I'm sure you can imagine. We compromised at black bedding and dark black-out curtains. I then proceeded to cover my walls with My Chemical Romance and Evanescence posters which seemed the next best thing to all black paint. Sigh. Oh, the memories.
Much to my mom's chagrin, I never grew out of what she called 'the goth phase'. However, I like to think I've developed a sense of style and elegance that transcends the inclination to just paint everything black (though I admit I still get the itch every once in awhile).
My husband and I bought our first house two years ago. It's still largely undecorated because I felt pressured to decorate 'like an adult'. I don't identify with the pretty pastels or the flattering neutrals often used on HGTV (doesn't stop me from watching it though). At the same time, I'm pretty sure most functioning adults don't paint their entire house black. I've spent the last two years conflicted - do I be an 'adult' or do I be me? For some reason, it only recently occurred to me that there is probably a happy medium. Some interneting revealed that there are definitely things out there for people like me. And I'm going to redecorate room by room until my house appeases my taste for
darkness. I thought I'd share some of the items I've found with you all.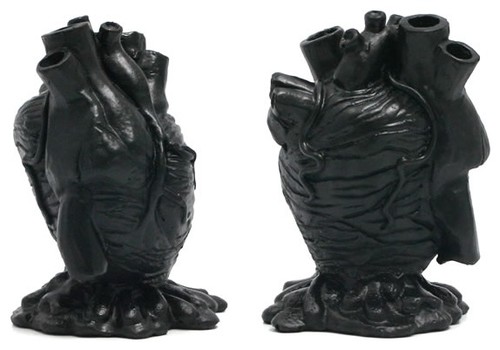 Black Quilted Comforter Set (queen), $100.93
Skull Candles
, priced between $9 and $29 (buying multiple would lead to a dramatic display)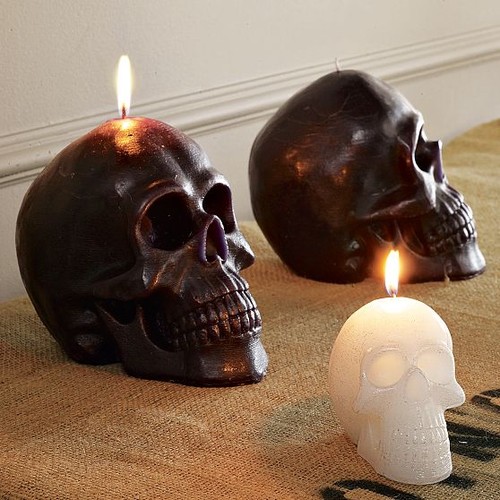 And there we have it. A nice start to non sixteen-year-old-wanting-to-paint-her-room-all-black Gothic inspired decorating. The internet has been my best friend while trying to find things for my home but thrift stores and antique malls are also great places to look. And if you have a TJ Maxx, Marshalls, or Home Goods near you, I have found some amazing dark decor hiding among their shelves though it's hit or miss.
I'm sure I'll have a lot more to share in the coming year as I find more ways to pay homage to my dark aesthetic. And I'll certainly share pictures of the finished product (eventually).
How about you? Does your bedroom reflect your aesthetic? What's one of your favorite pieces in your bedroom right now?